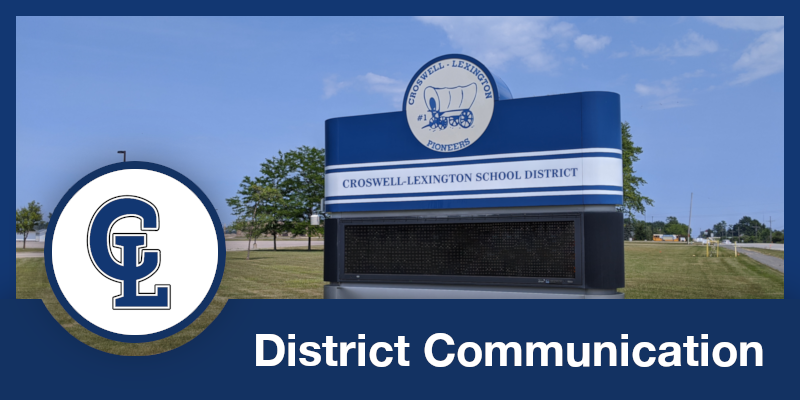 September 7, 2020
Dear Cros-Lex Families:
On behalf of our dedicated staff of Cros-Lex Schools, I want to extend a warm welcome to all families as we begin the 2020-21 school year! We are truly excited to welcome back both our students who have chosen to join our 100% virtual learning community, and we welcome back our students who will be attending our schools for in person, traditional face-to-face learning.
As we begin the 2020 school year tomorrow, I want to again thank everyone in advance for your patience and understanding. Our Guidance Counselors, Teachers, Secretaries, Tech Director/Department, and Administrators have worked tirelessly over the past few weeks and months, preparing for a truly unprecedented start to a school year. Our Custodial, Food Service, Mechanics, Grounds / Maintenance, and Central Office Staff have been working tirelessly as well, getting ready for the start of the school year.
This coming week will be an adjustment for all us as we begin the transition to a new learning platform called Brightspace. Similar to any new technology roll-out, we anticipate a learning curve for all of us as we transition back to school and with new digital resources for student learning. Brightspace will also have a parent portal so parents and learning coaches will be able to see their student's school work. More information about the Brightspace parent portal will be coming in early October. Another digital resource we will have available this year is an online form submissions system called: Scriptapp. The Scriptapp system can be used to fill out and digitally sign school documents and forms for online submission. It is important that your parent/guardian email address matches your students' contact information in Skyward for both Brightspace and Scriptapp (online forms service) for them to work properly.
Our school and district staff will make every effort to assist you this coming week and throughout the year ahead. Please reach out to your child's school if you need assistance in any way, and we will make every effort to assist you .Also, please visit our website for more information at www.croslex.org.
As a reminder, for our face-to-face students, we are starting the school year tomorrow September 8th with a 50/50 schedule for students with the last name beginning with A-L, and on Wednesday September 9th, the other half of students will attend with the last name beginning with letters M-Z. This gradual transition back to face-to-face learning will help our school staff focus intently on student safety protocols, and identify areas of strength and areas of needed adjustment. Thank you for your understanding!
Also, all students enrolled in Croswell-Lexington Community Schools will receive free breakfast and lunch beginning September 8, 2020. These free school meals will continue while the Federal funding exists. It is very important that families continue to complete the 2020-21 Household Application for Free and Reduced Price School Meals in the event this funding stops or other programs become available.
To all students enrolled in the 100% Virtual Program - School meals will be distributed weekly (5 days Breakfast and Lunch). Please note the first distribution date will be Tuesday, September 8, and then meals will be distributed every Tuesday. These meals can be picked up between 9:00 a.m. – 10 a.m. at the west side of the High School.
Another friendly reminder that there is construction traffic in Croswell at and near the intersections of Croswell and M-90 roads which will result in delays until the road construction projects are completed. Please be patient and travel safely! High School traffic flow can travel from the north to south on Croswell Rd. and enter east onto State Street (also known as Turkey Trail) into the back parking lot of the high school.
For all of us who will be onsite for in person learning, I encourage everyone to adhere to the State of Michigan's Return to School Guidelines, which includes social distancing, wearing of face coverings, and proper hygiene. As important as any health & safety precaution is to show respect and compassion to one another. If we do all these things together, we will beat this time of challenge as one united Cros-Lex community!
Thank you, and Go Pioneers!
Dan