We have been informed today by Imlay City that Friday's Varsity Football game at Imlay City has been cancelled. The Athletic department is working very hard to schedule a new opponent for this week. More information will be passed along as it becomes available.

Beginning with our brave Croswell American Legion veterans honoring our great nation, to our award winning band outstanding 1/2 time performance, to our cheer team & their spirited/athletic stunts, great fan support, and another varsity football Friday night BWAC victory, it's great to be a Pioneer! #Gopioneers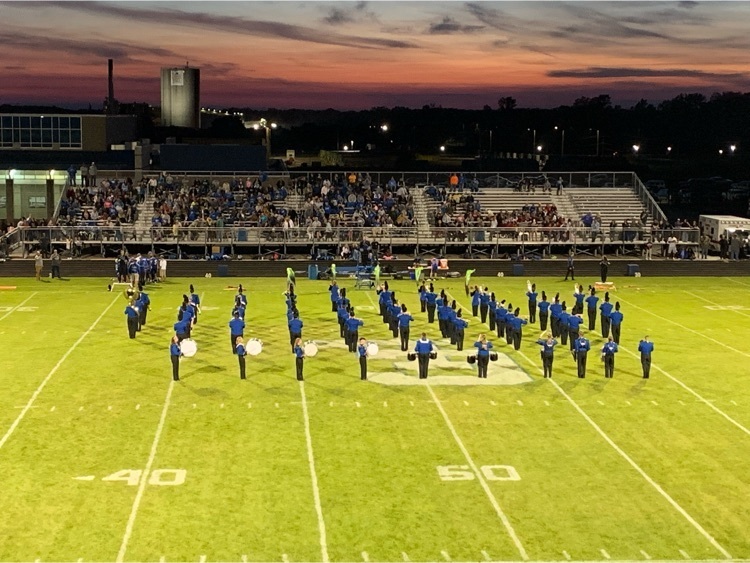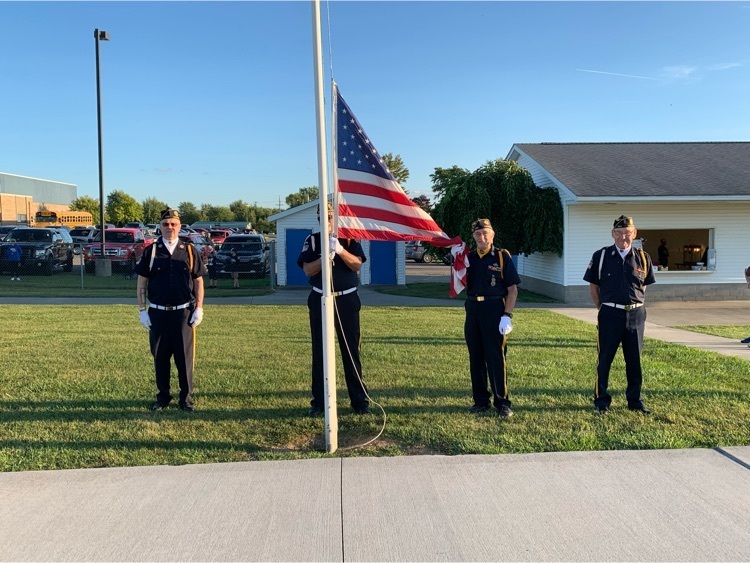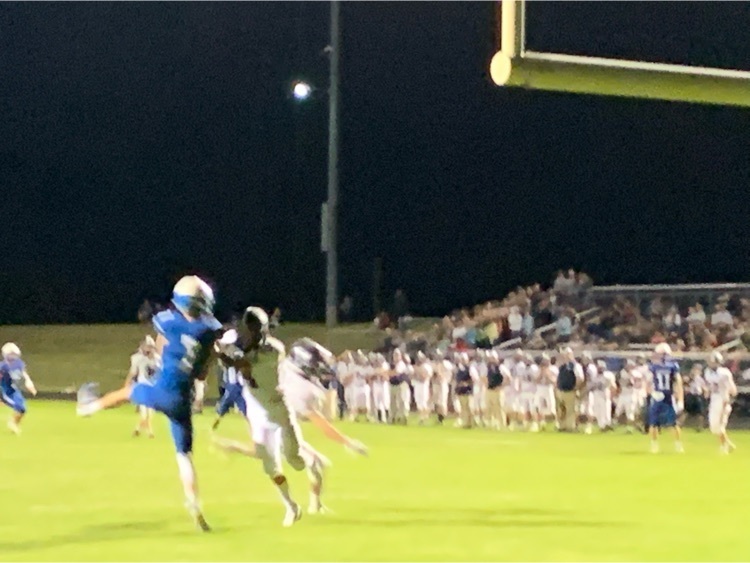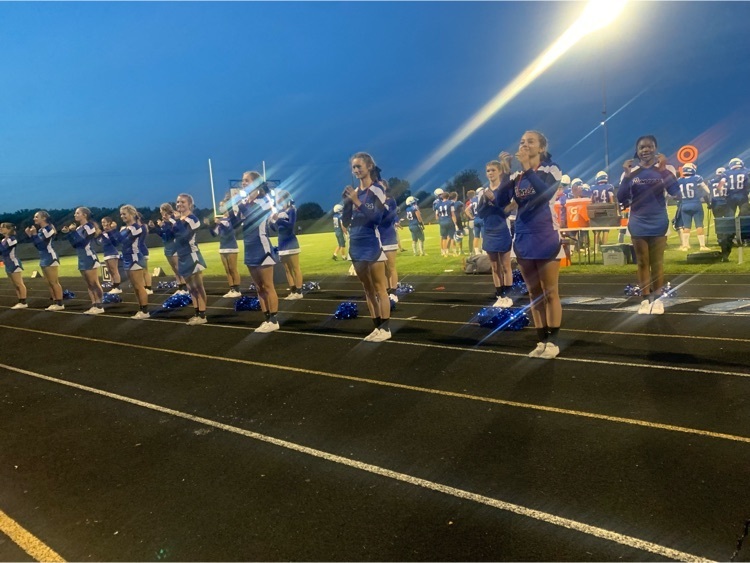 Tonight's soccer game against Armada will be played at 5:30pm. This change was due to a change of officials. Sorry for the short notice. Thanks Jeff Kosal

Hello everyone, We were nominated for the football game of the week this week (Sept 17th). The voting starts at noon and goes until Wednesday at noon. To vote, please go to
www.Detroitlions.com/highschool
to do so. If we win, our program gets $550 in a grant.

Just a quick reminder that the Croswell-Lexington Football team will be taking on the North Branch Broncos tonight here at Pioneer Stadium. Kick off time is 7:00pm. If you are going to be cutting in close and don't have time to grab a bite to eat, stop by our concession stands tonight and grab a pull pork sandwich, pizza, hot dog or nachos along with many other delicious items. Go Pioneers and Go Blue
Congratulations to all of this years Cros-Lex Retirees! Mrs. Parker and Mr. Hollingsworth attended our back to school luncheon! Also thank you to the Presnell Insurance Agency for help sponsoring today's event.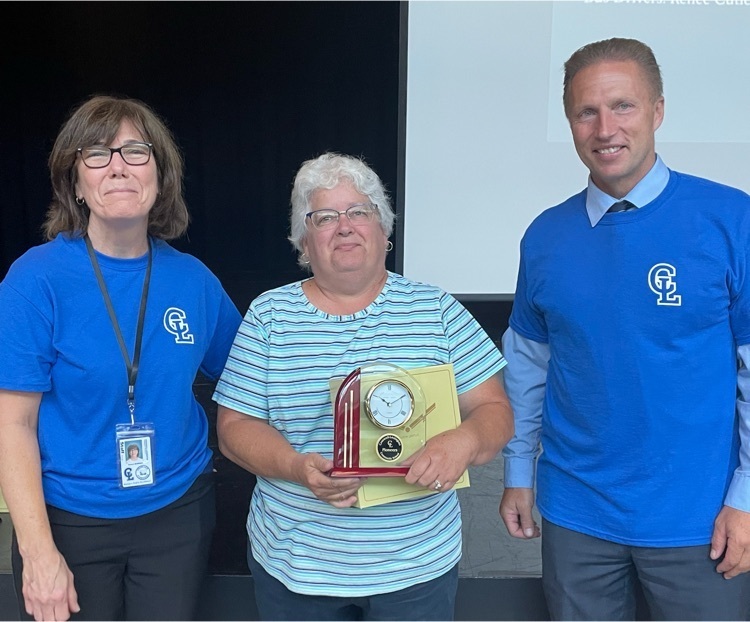 Congratulations to Mr. Dave Lyons our 2021 France Outstanding Educator of the year!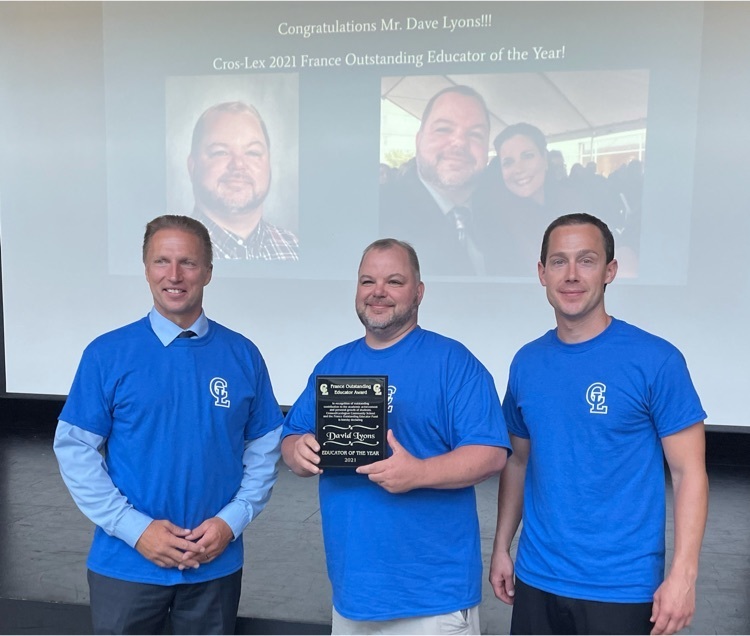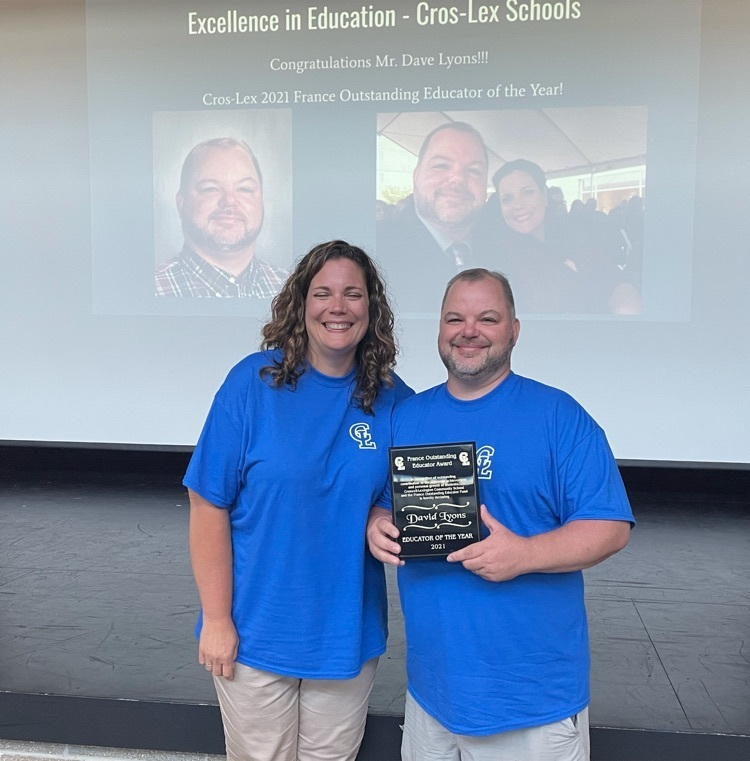 Thank you to all of the volunteers from Croswell Wesleyan Church, Croswell First Responders, local businesses who sponsored the back to school expo event today, and to everyone who donated their time in service for our students / families! Go Pioneers!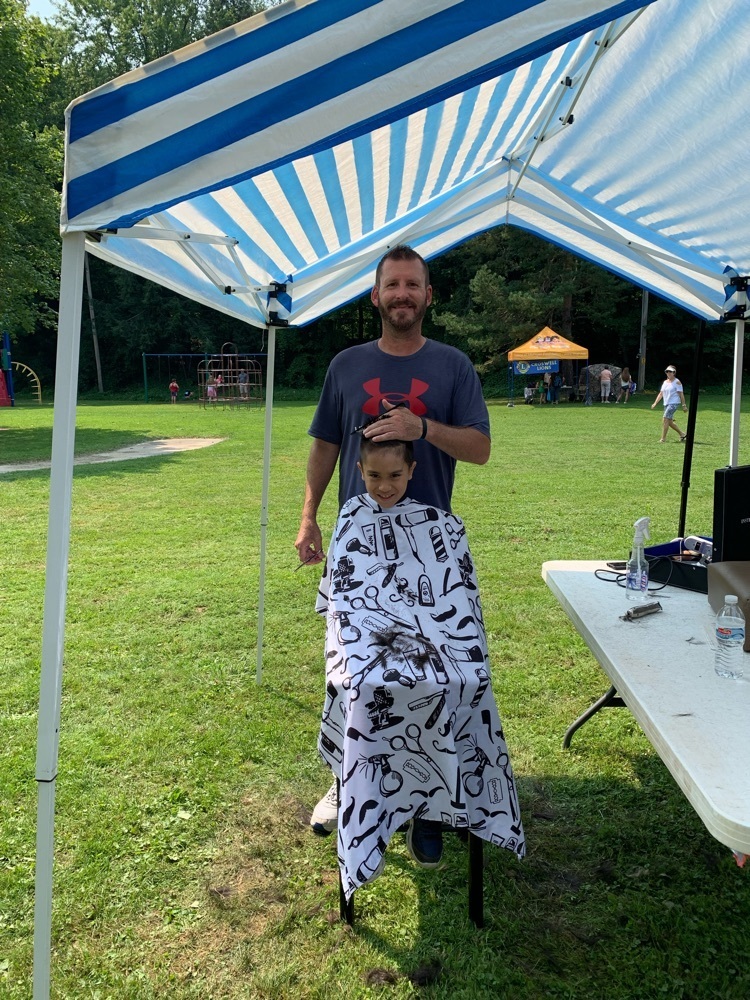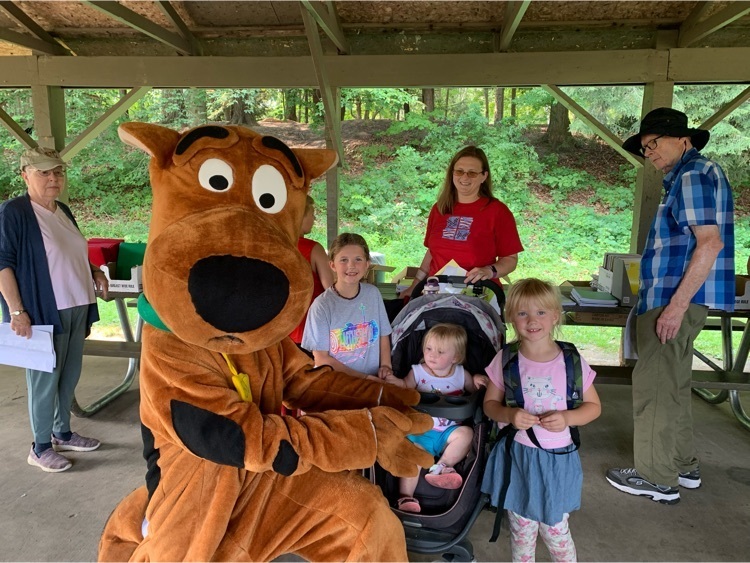 Cros-Lex Families, please click the following hyperlink
https://5il.co/xkcs
for the latest COVID-19 related fall planning information. Thank you, and Go Pioneers!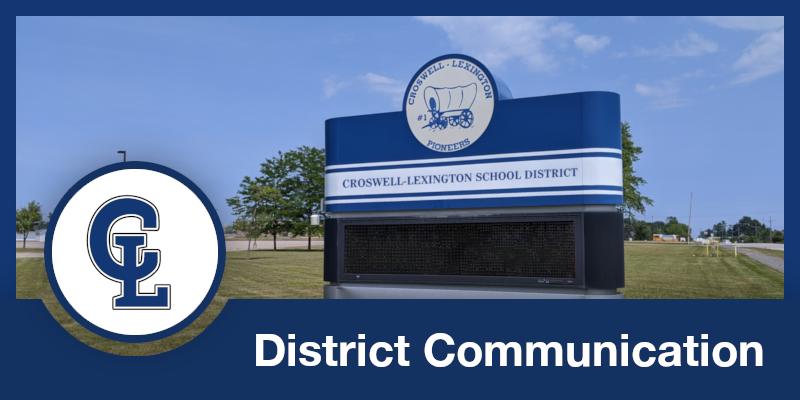 High School Fall Sports Parent and Athlete Meeting: There will be a Parent/Athlete meeting this coming Sunday, August 15th starting at 6pm in the high school cafeteria for all high school fall sports except football. We will have a brief 10-15 min meeting and then teams will break off into groups and coaches will go over any information that they may have for you. Please enter the doors for Pioneer Hall. Thank you Jeff Kosal Athletic Director

The CLHS band finishes camp tonight with an outstanding performance! #GoPioneers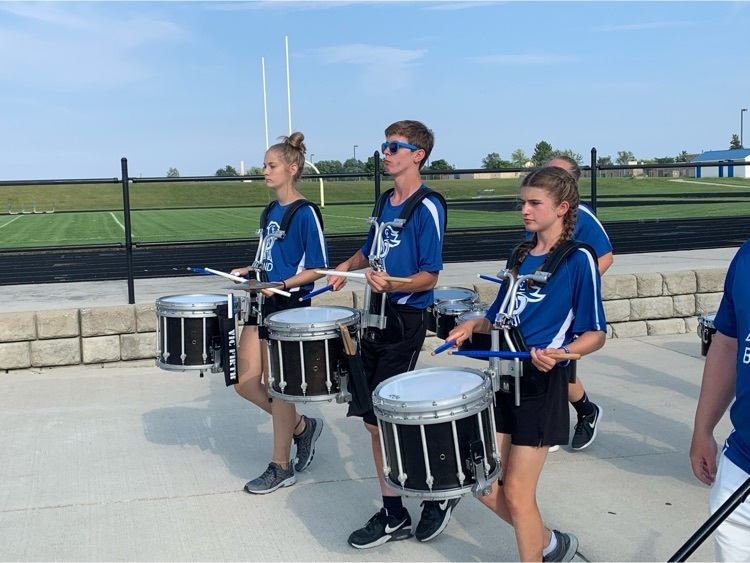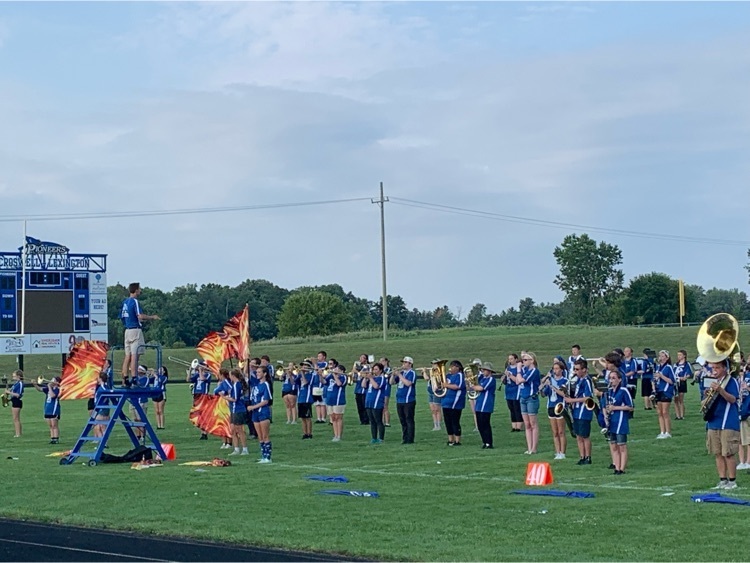 Cros-Lex Families, please click the following hyperlink
https://5il.co/wptn
for the latest COVID-19 related fall planning information, request for parents to complete a survey, and an invitation to attend a parent meeting Tuesday August 10th at 5:30 pm. Please review the letter for full details. Thank you!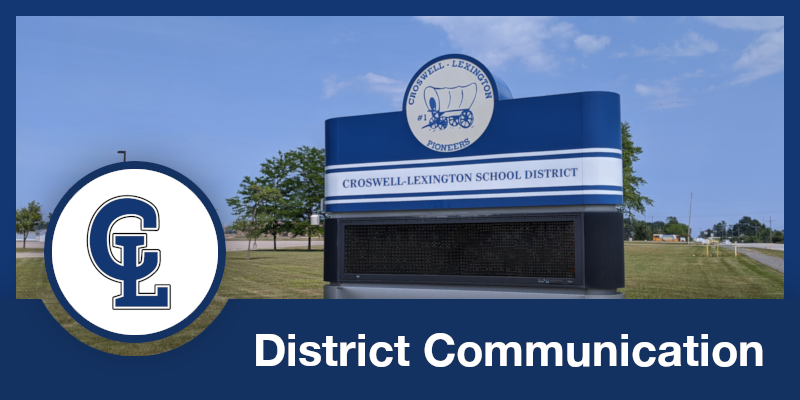 Here is the Fall 2021 Cross Country, Volleyball, & Tennis schedules for our Pioneers! Schedules are subject to change-please check our website for the most up to date information please visit:
www.croswelllexingtonhighschool.bigteams.com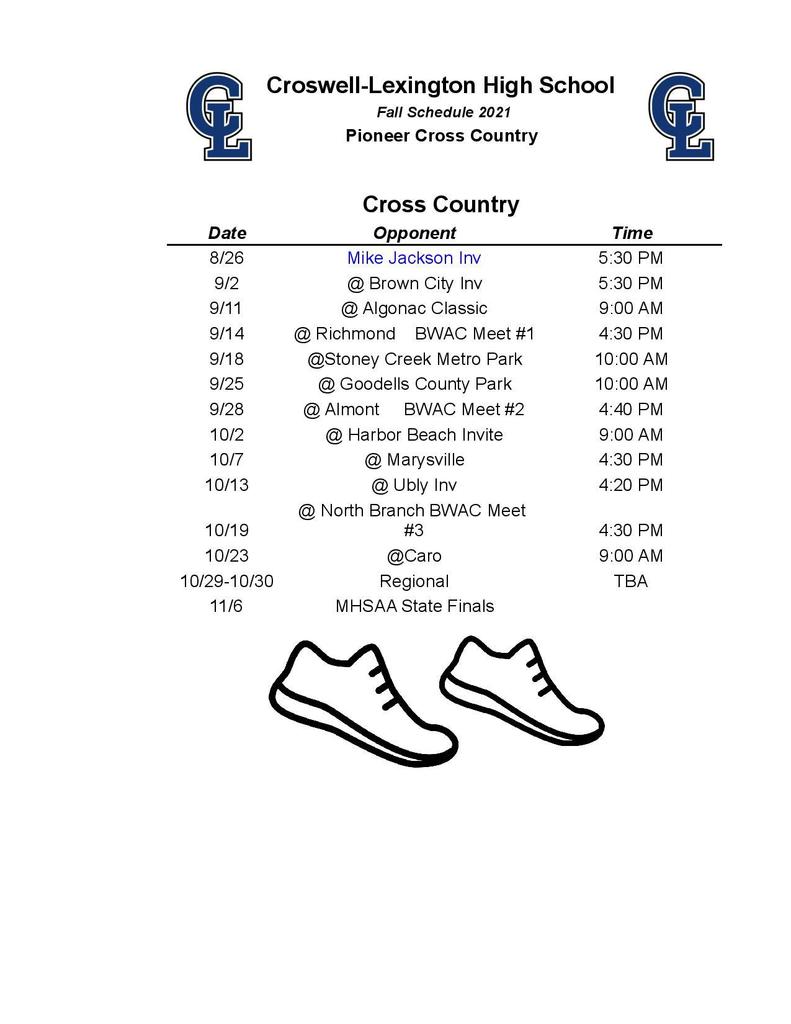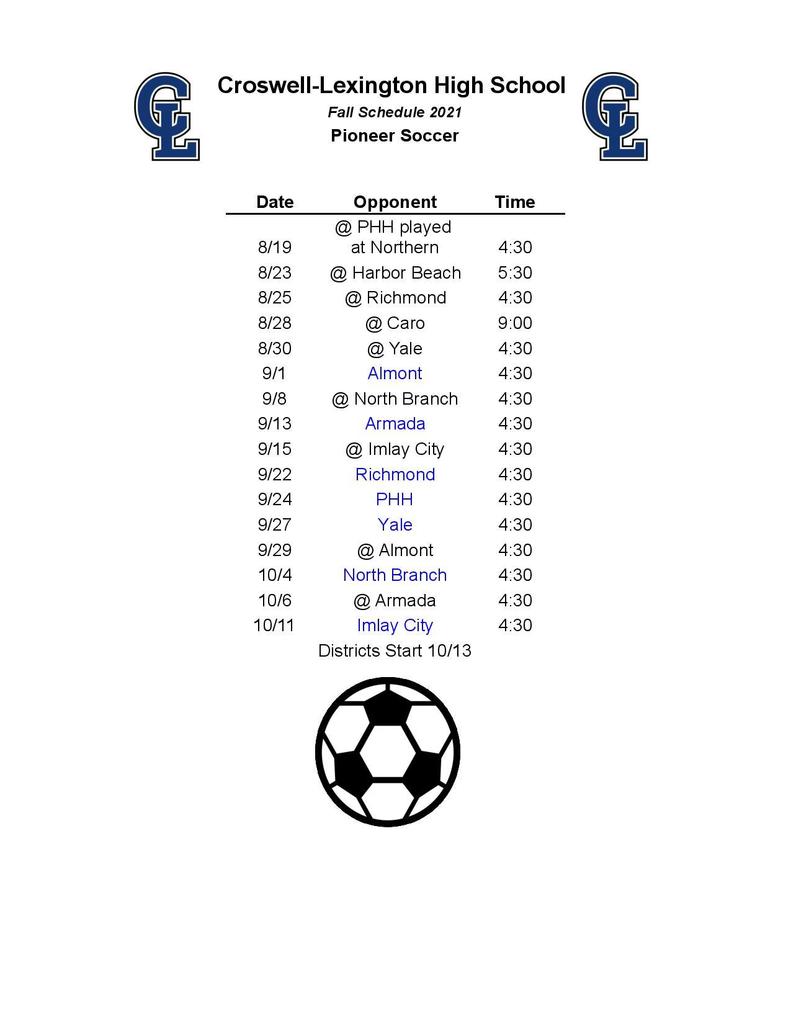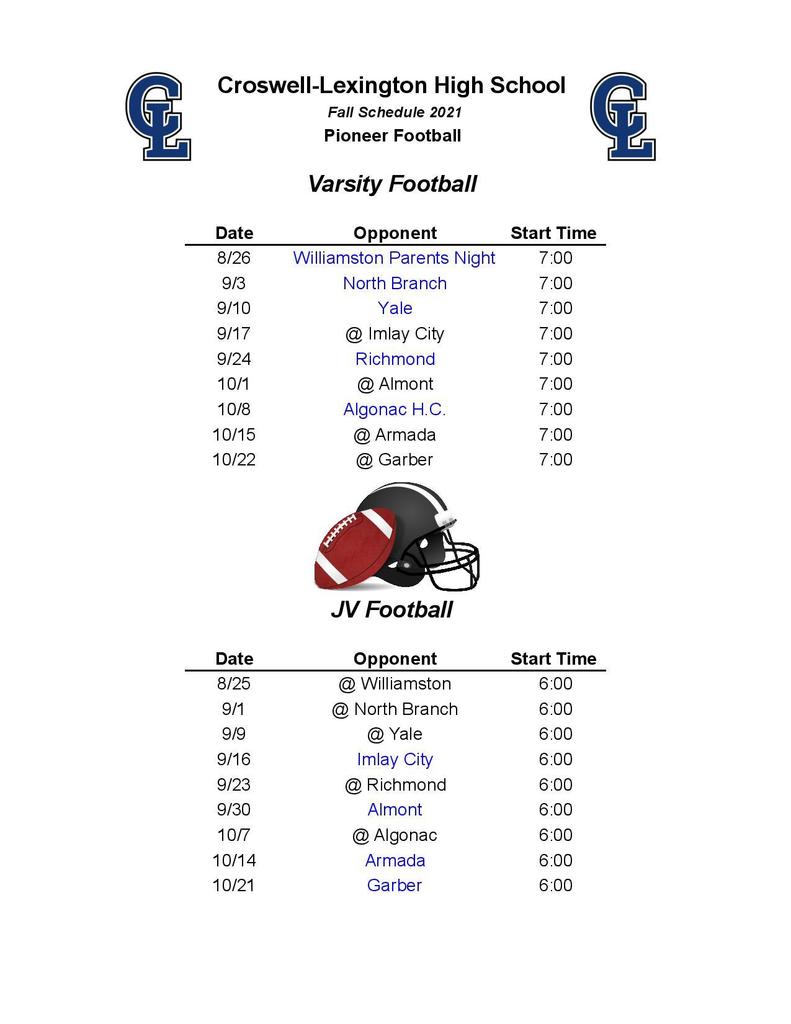 Have you ever wanted a Pioneer Hall Team Banner? Now is your chance! We are selling the Varsity Team banners first come first serve. Each banner is $80. Get them while you still can they are only available until September 10th! For more information just call the athletic department at 810-679-1057.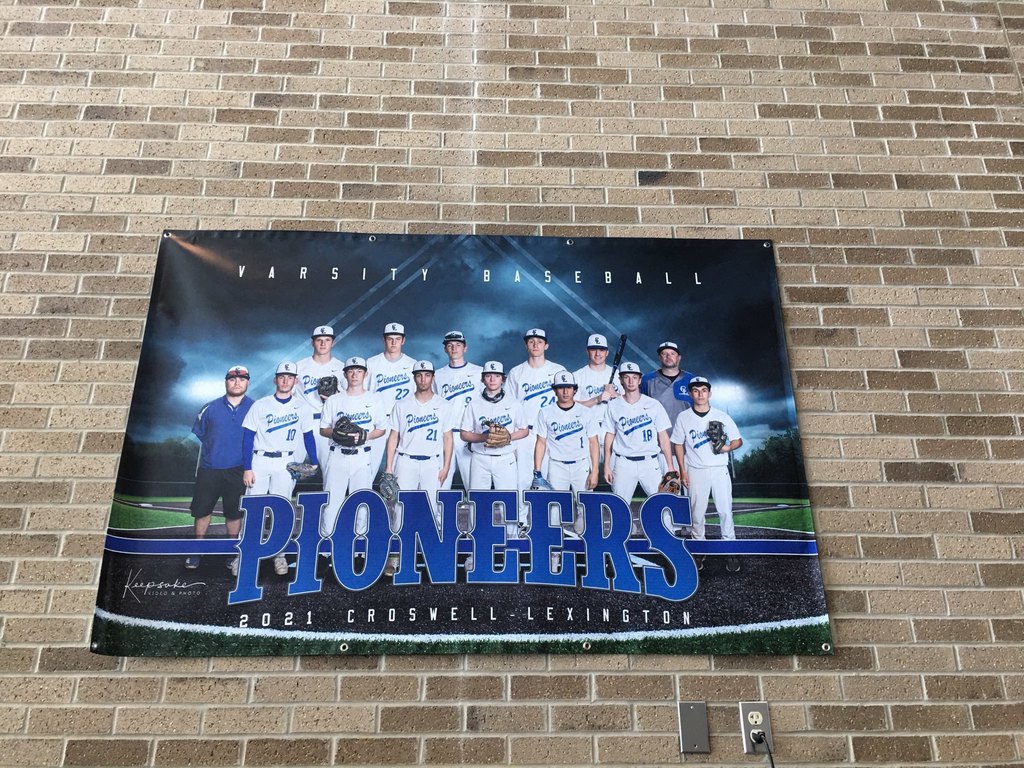 The first fall sports practice that begins on August 9th is for high school sports only.

Athletic reminder: First fall sport practices start this coming Monday, August 9th. You must have your sports physical turned in prior to practice or at the start of practice. You can not begin practice without your sports physical completed. Cross Country begins Sunday August 9 at 12:00am. That is not a typo lol. Please contact Lisa Shaw @
lshaw@croslex.org
or Rick Shaw @
shaw.rick@sccacademy.org
for more information Volleyball begins Monday August 9th from 9:30-12:00pm. Please contact Ryan Wilson @
rwilson@croslex.org
for more information. Football begins Monday August 9th from 4:00-7:00pm. Please contact Mike Legrow @
mlegrow@croslex.org
for more information. Soccer begins Monday August 9th from 6-8:30pm. Please contact Ken Nelson @
knelson@croslex.org
for more information. Tennis begins Monday August 9th from 8-10. Please contact Scott Cummings @
scummings@croslex.org
for more information.

Save the date, August 21st from 12-4 pm @ the Swinging Bridge Park, the Croswell Wesleyan Church is hosting a Back to School Expo and is sponsored by many of our local businesses. There will be family fun events for all kids, along with generous donations from local businesses! Please click the following hyperlink
https://5il.co/w87u
for all of the details. Go Pioneers!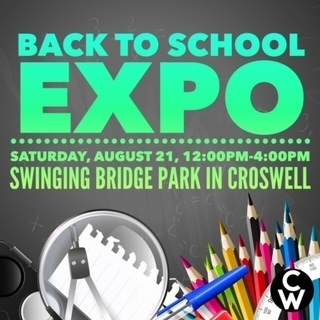 [CORRECTED LINK] Summer School August 2021 Bus Stops and times! This is only for students who enrolled in Summer School starting August 2nd. Please note bus times may fluctuate as much as 15 minutes due to rapidly changing bus schedules. Routes:
https://5il.co/w841

Parents and student athletes, This year the school has again teamed up with McKenzie Health Systems to be able to help athletes get their athletic physicals completed here in town. Croswell Clinic will be opening their office on July 29th from 8:30-11:30 and 1:00-4:30 to get students in. The cost will be $15.00 per student. Cash or checks made payable to McKenzie Health Systems will be collected the day of the appointment. Attached you will find a physical form for the upcoming school year. Forms must be completed, signed by parents and turned back into the athletic office. When turning in your completed form students will sign up for a time on July 29th. There are two sheets, a pink sheet for the girls and a blue sheet for the boys. Please pick the correct sheet and pick your time. All completed forms will be turned over to the physician's office prior to July 29th. There will be back up forms at the office but forms must have a parent's signature on them in order for students to be seen. Croswell Clinic 8 N. Howard St Croswell, MI 48422 810-679-0012 Date: July 29th 8am – 11:30am 1:00 pm- 4:30-pm I will be in the office on July 21st and July 27th Please let me know if you have any questions or concerns. Jeff Kosal Athletic Director Croswell-Lexington High School 810-679-1057