Summer School June 2021 Bus Stops and times! This is only for students who enrolled in Summer School starting June 14th. Please note bus times may fluctuate as much as 15 minutes due to rapidly changing bus schedules. June 2021 Routes:
http://bit.ly/cl-bus-june2021
Important information for parents or guardians of students eligible for Free and Reduced Lunch at Geiger Early Childhood Center. What is the Pandemic-EST Program? The Pandemic-EST (P-EBT) Program gives food benefits to families with children who were not able to get free or reduced-price school meals due to COVID. You may hear about this benefit from other schools or in the media. Who is eligible? Being eligible for this program will depend on what school your student attends. Eligibility for the Pandemic-EBT (P-EBT) Program can be different between schools within the same district. More information at https:
https://5il.co/s8sg
Apply electronically! at
https://bit.ly/3snTlkp
The District's telephone phone service has been restored. Please return to using the regular school phone numbers. Thank-You!
District phone system is currently not working due to a problem within the phone provider. Please use the following backup number during this time. We will post another announcement once phone service has been restored. Middle School (810) 404-3028 Meyer Elementary (810) 404-3042 Frostick Elementary (810) 246-4454 Transportation (810) 404-3045 Central Office (810) 404 3023 Frostick Elementary (810) 246-4454 Transportation (810) 404-3045 Geiger (810) 404-3106 High School (810) 404-3026
Several students are returning to face-to-face school for second semester (Jan. 19th). Please refer to the bus schedule located at
http://bit.ly/39z8hF5
Times may fluctuate as much as 15 minutes as we continue to make changes to these routes. Feel free to call transportation at 810-679-1070 if you have any questions.
10/1/2020 Good Afternoon Parents: On Tuesday October 6th, instead of having an early release day as previously planned, we will be having a virtual/remote learning day. This means that our Face-2-Face (F2F) students will not be attending school and instead will be working on assignments given to them through Brightspace or through paper copies/packets. We look forward to seeing our F2F students back on Wednesday October 7th. If any parent still needs to schedule a conference with their child's teacher, please use this link croslex.org/pt to schedule a middle school / high school conference, or contact your child's elementary teacher to set up your conference. Please be sure that your contact information in Skyward is accurate and up to date so the teacher will be calling the correct contact number for your conference. Please be aware that when our teachers call you the caller ID may indicate anonymous or from the 617 area code. Go Pioneers! Daniel Gilbertson Superintendent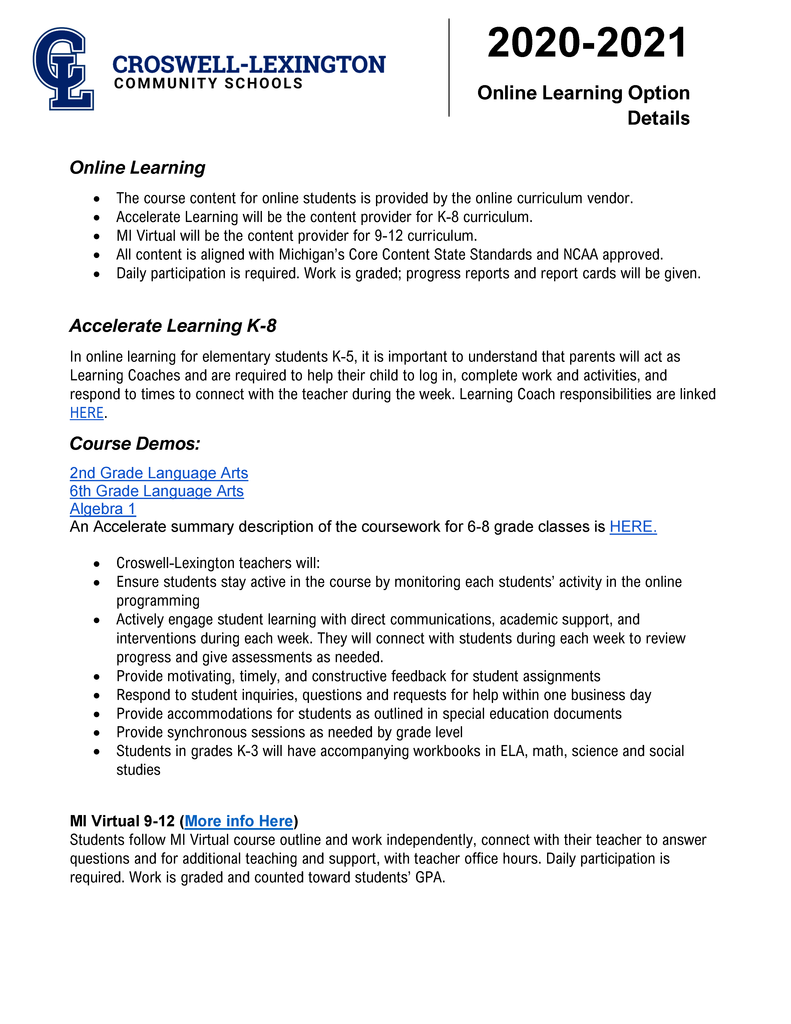 Return to School Information: Face to Face or Virtual, which is right for your student(s). Check our website for Superintendent Gilbertson's letter at
https://bit.ly/310pBOK
to let us know how you want to back to School by Aug 5th Click link for survey.
https://bit.ly/2P6txYK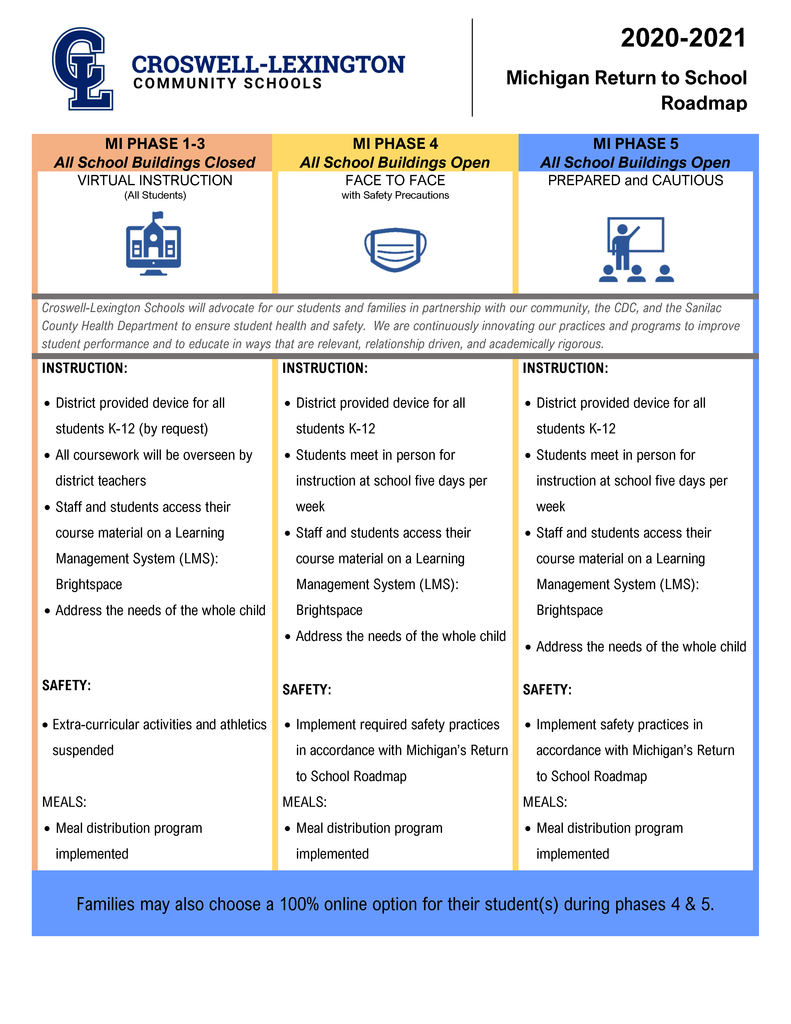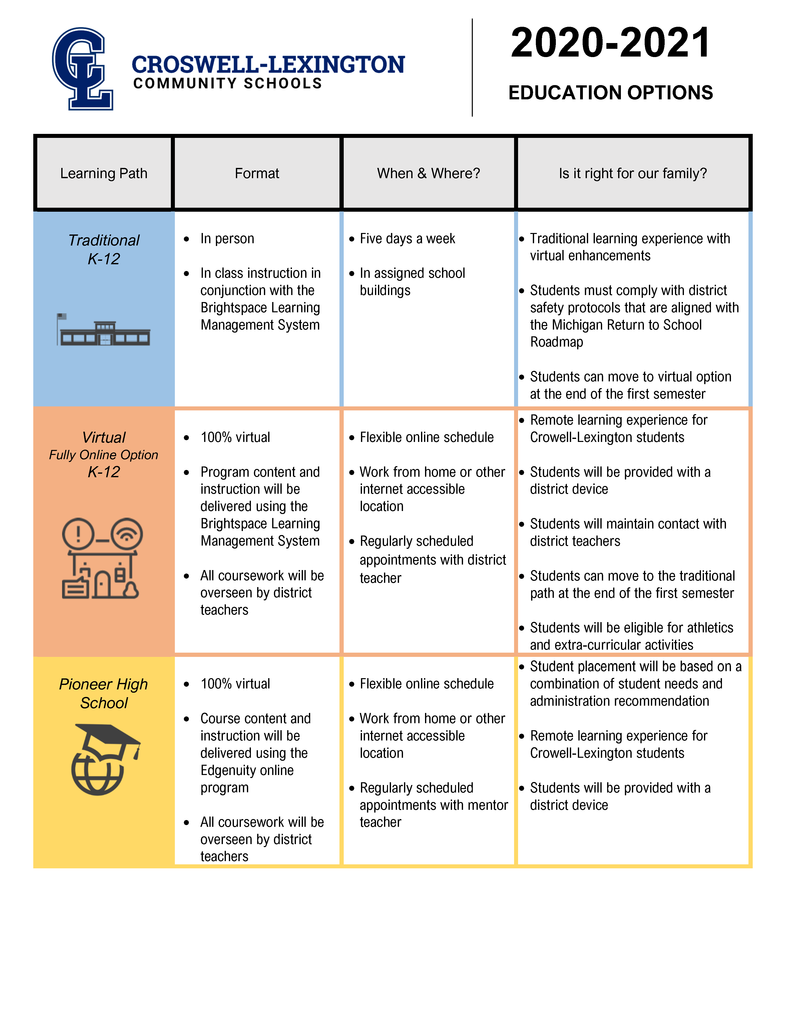 Food Pickup Tomorrow (7-21), 10:00 to Noon at High School East Parking Lot. 7 days of breakfast and lunch will be offered.
The Croswell-Lexington Community School Board of Education meeting that was scheduled for Monday, July 13 has been rescheduled for Monday, July 27, at 7 p.m., in the High School Media Center.
On 5/18/2020 the Croswell-Lexington Board of Education Approved the Calendar for 2020-21.
https://5il.co/hdfs

Congratulations to CLHS Varsity Boys Basketball team for a hard fought victory over the Bluedevils on January 6th! #GoPioneers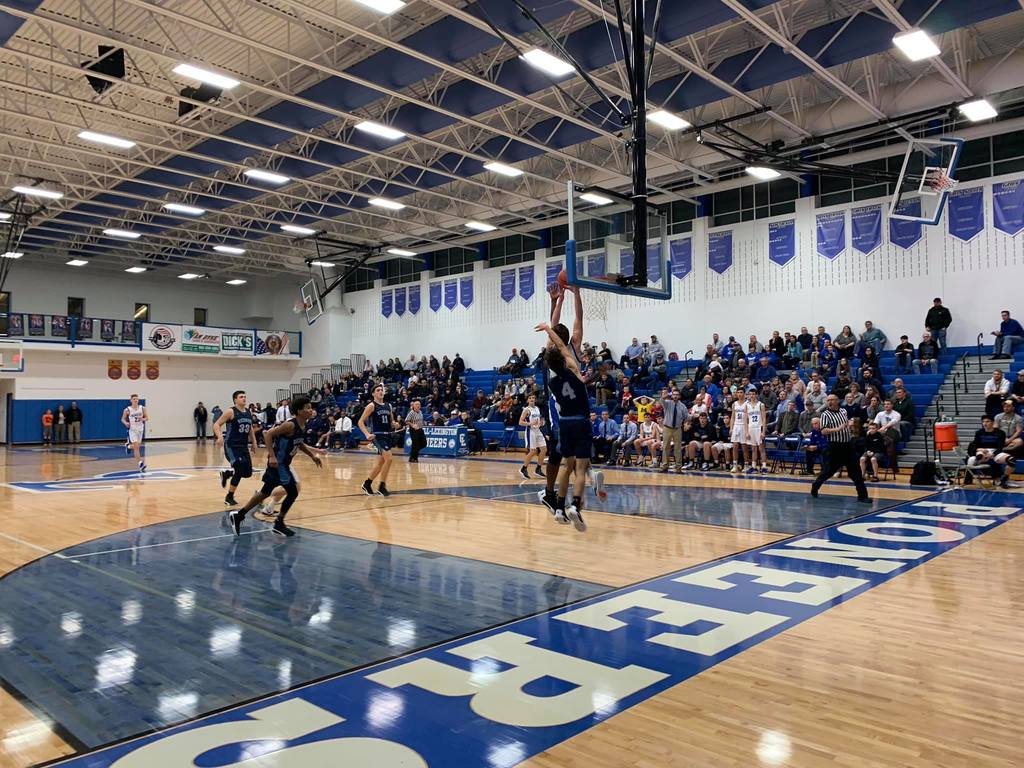 Please give a shoutout to CLHS Pep Band for their great performance tonight as they support the Varsity Girls and Boys basketball teams in a classic BWAC rival game vs Yale Bulldogs. #Pioneerpride