PRESS RELEASE - NOTICE OF BOARD VACANCY (TRUSTEE) The Complete Notice and application can be found at:
https://5il.co/1d2l2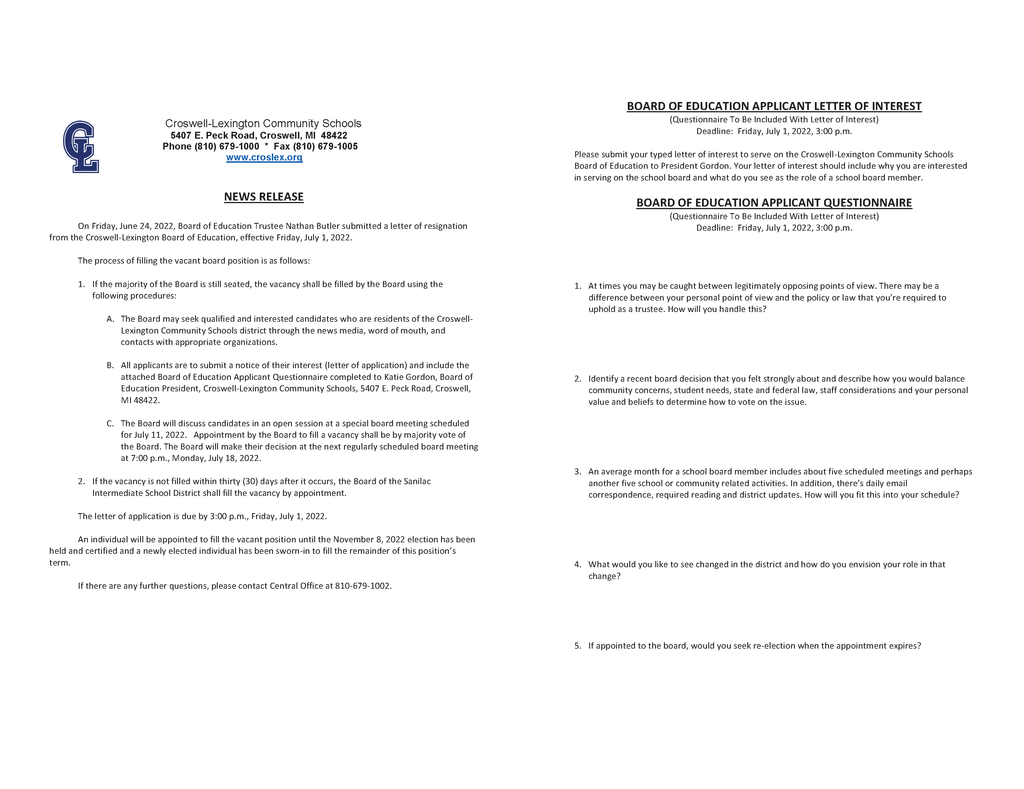 The complete document and required questionnaire are at:
https://5il.co/1clqh
On Friday, June 17, 2022, Board of Education Secretary Joe Vitale submitted a letter of resignation from the Croswell-Lexington Board of Education, effective Friday, July 1, 2022. The process of filling the vacant board position is as follows: 1. If the majority of the Board is still seated, the vacancy shall be filled by the Board using the following procedures: A. The Board may seek qualified and interested candidates who are residents of the Croswell-Lexington Community Schools district through the news media, word of mouth, and contacts with appropriate organizations. B. All applicants are to submit a notice of their interest (letter of application) and include the attached Board of Education Applicant Questionnaire completed to Katie Gordon, Board of Education President, Croswell-Lexington Community Schools, 5407 E. Peck Road, Croswell, MI 48422. C. The Board will discuss candidates in an open session at a special board meeting scheduled for July 11, 2022. Appointment by the Board to fill a vacancy shall be by majority vote of the Board. The Board will make their decision at the next regularly scheduled board meeting at 7:00 p.m., Monday, July 18, 2022. 2. If the vacancy is not filled within thirty (30) days after it occurs, the Board of the Sanilac Intermediate School District shall fill the vacancy by appointment. The letter of application is due by 3:00 p.m., Friday, July 1, 2022. An individual will be appointed to fill the vacant position until the November 8, 2022 election has been held and certified and a newly elected individual has been sworn-in to fill the remainder of this position's term. If there are any further questions, please contact Central Office at 810-679-1002.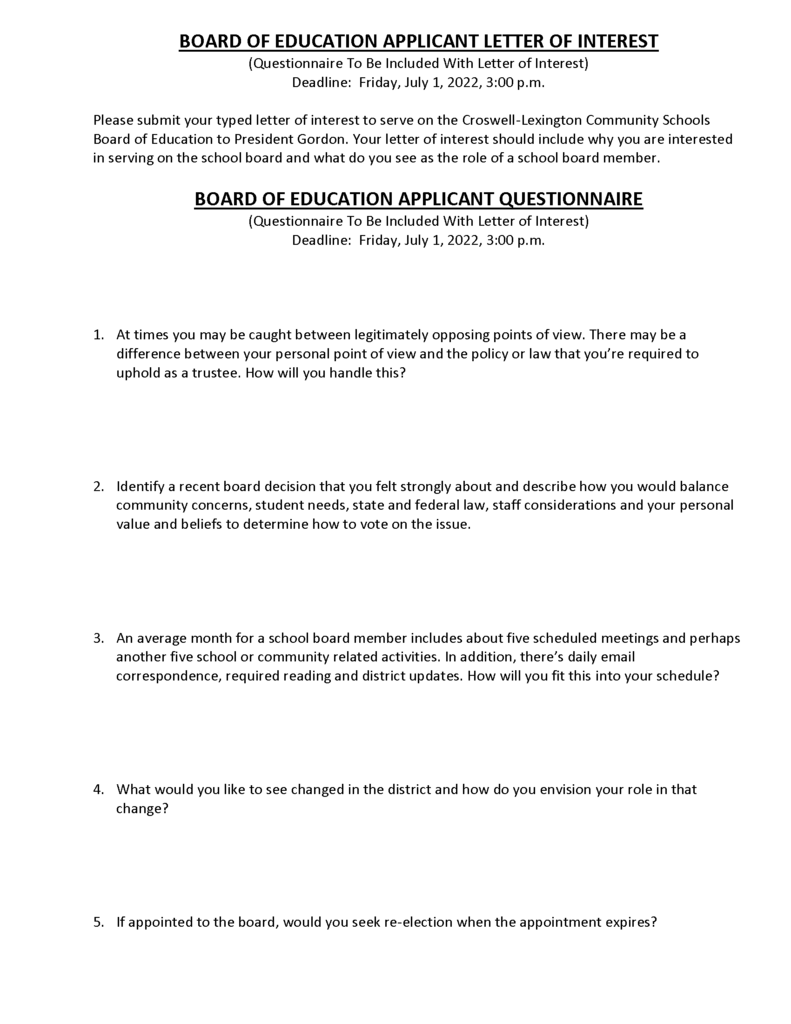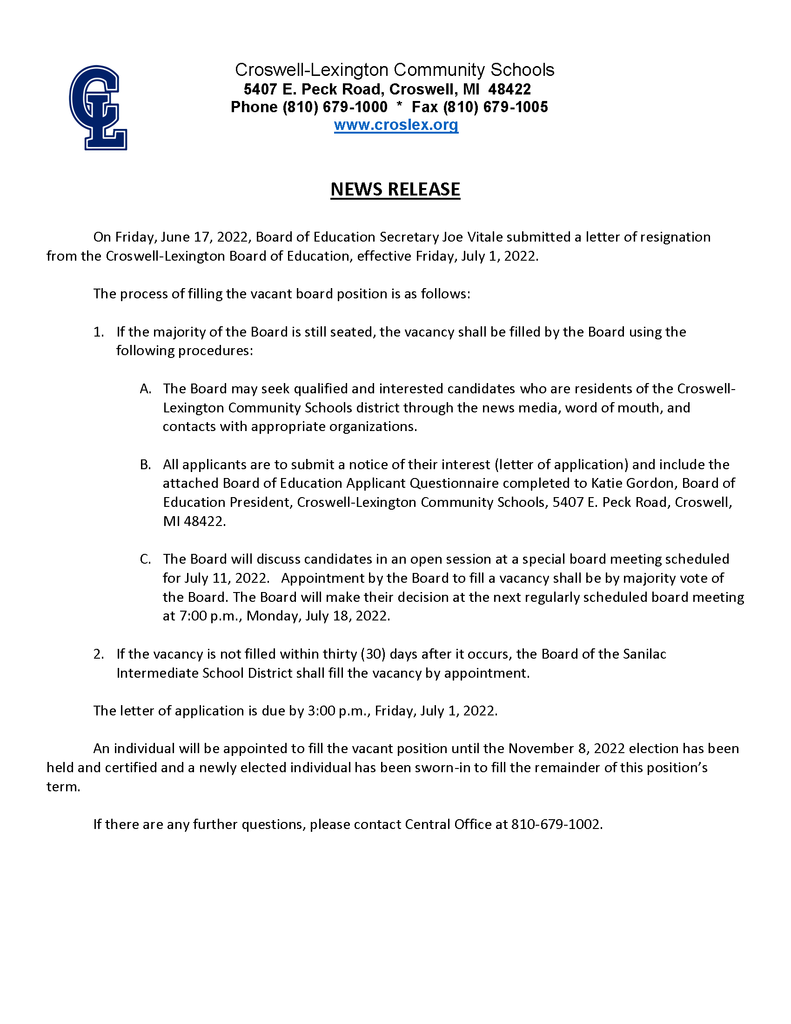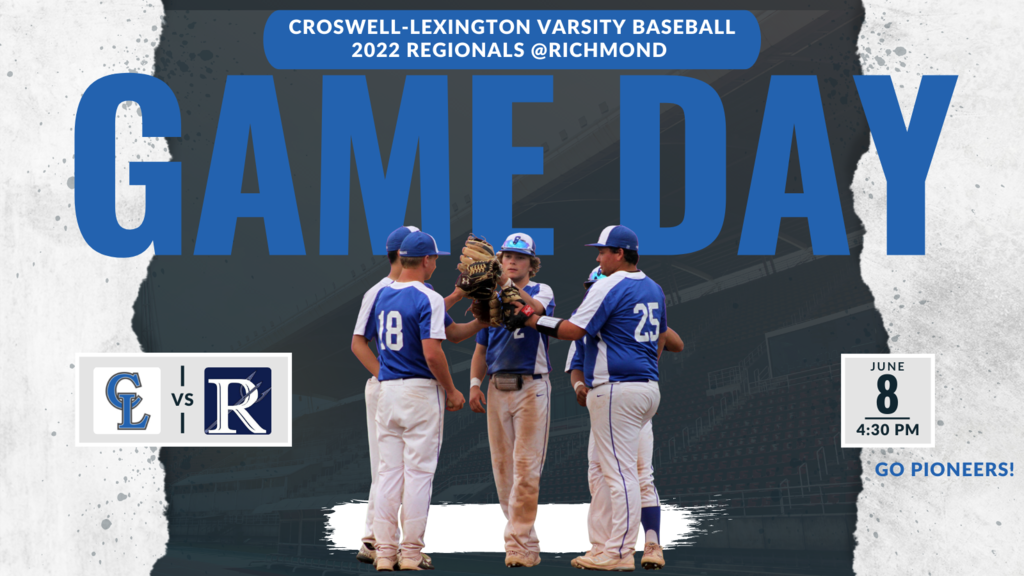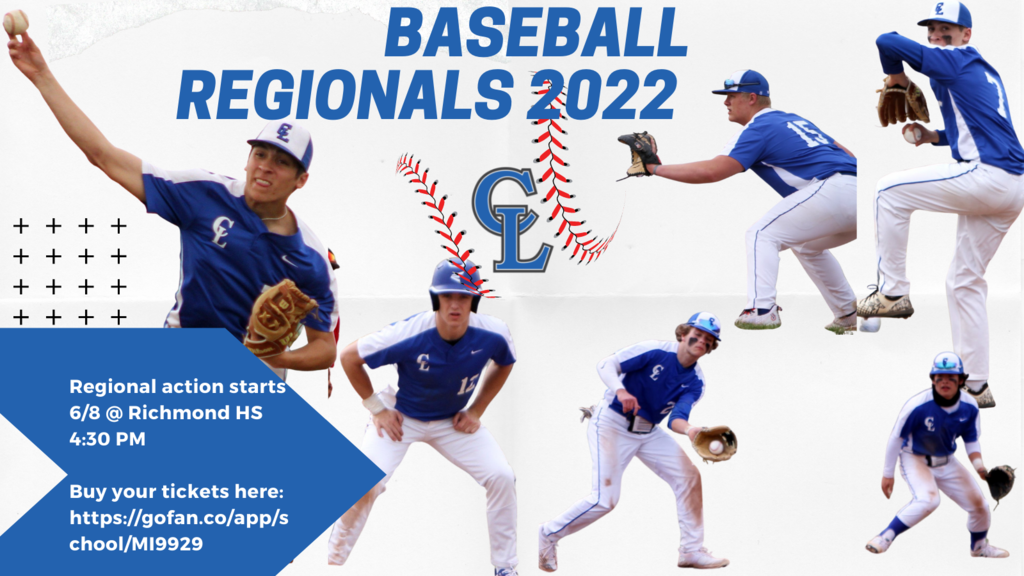 Congratulations to the Baseball team on their District Championship this past weekend. They will now travel to Richmond on Wednesday June 8th to take on Richmond High school with a 4:30 start time. Here is the link to purchase tickets for the game:
https://gofan.co/app/school/MI9929
Best of luck Pioneers

CLHS student athletes honored on Friday for qualifying for State Track Finals today near Grand Rapids. Wishing them great success as they compete today! #Gopioneers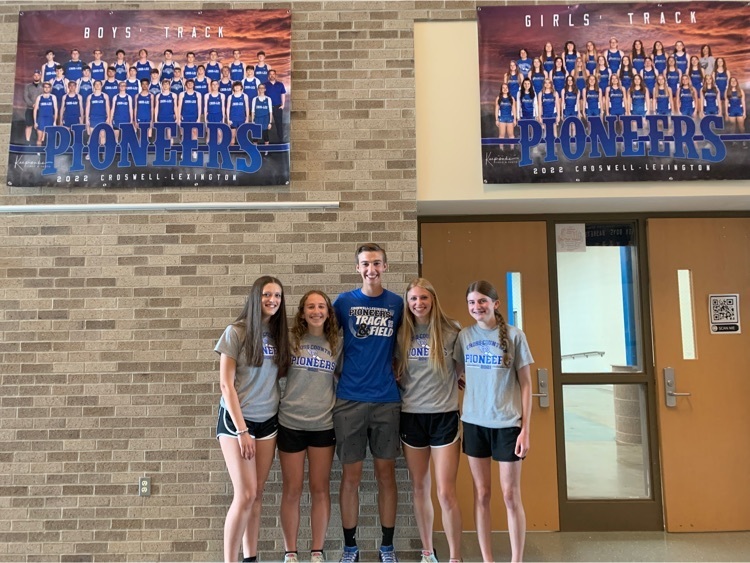 Today's the Varsity Softball & Varsity Baseball team districts at Yale HS. Softball starts at 10 AM & Baseball at 12 PM-come on out and support your teams! GO PIONEERS!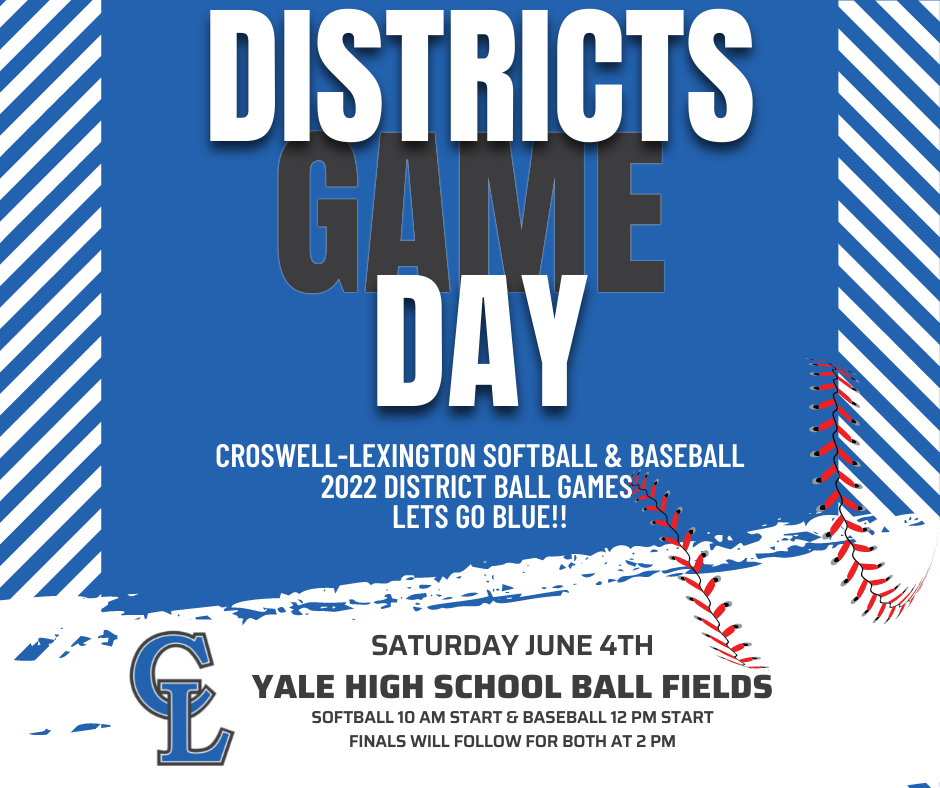 Here is your link to purchase tickets for the softball and baseball district that will be held at Yale on Saturday June 4th.
https://gofan.co/app/school/MI9929
Baseball will play at 10am Softball will play at 12pm Districts for both will be held at 2pm
A huge shout out to our 2022 CL State Track & Field qualifiers!! They will compete starting tomorrow at Forest Hills Eastern HS near Grand Rapids. We Wish them all a ton of luck! We are all so proud of you!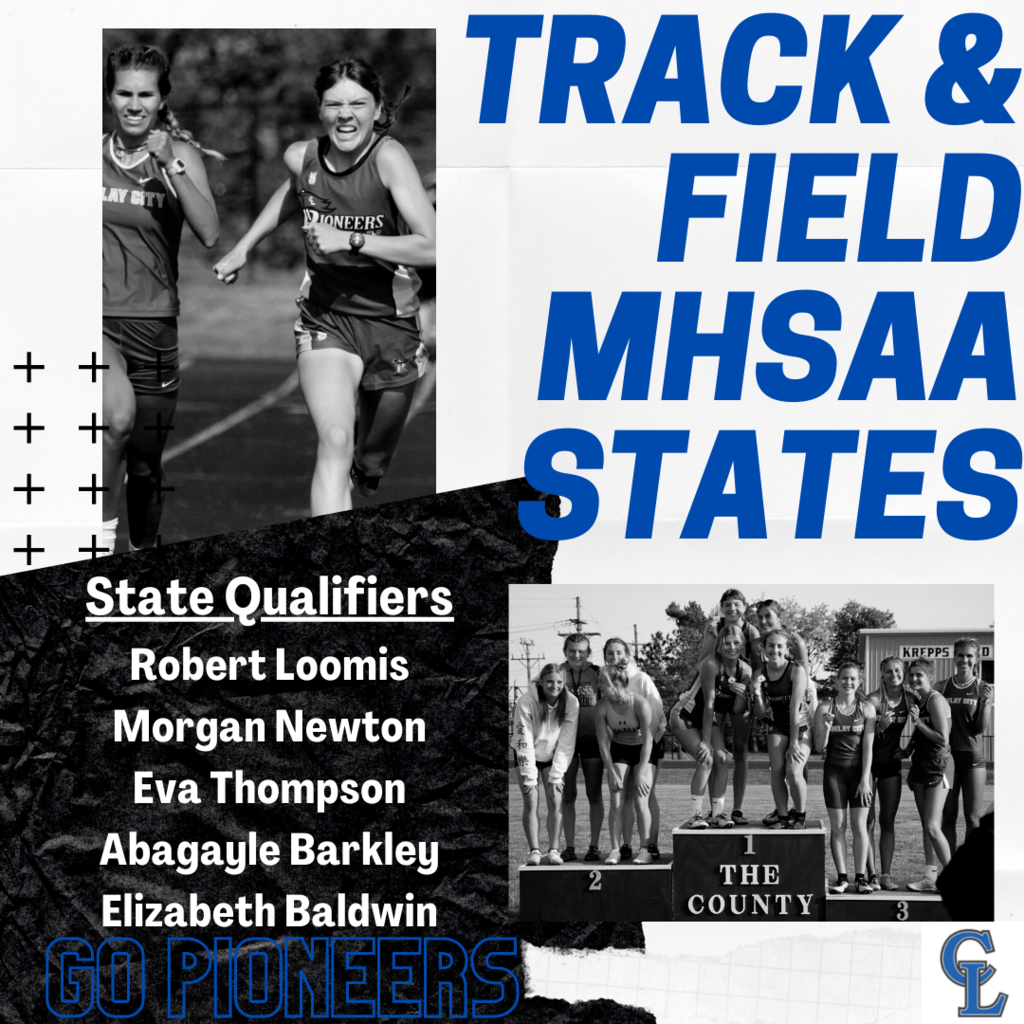 Great news Pioneer Athletes and Marching Band! The Athletic Department at Croswell-Lexington High School now hosts their Pre-Participation Athletic Forms online with BigTeams. This digital platform will allow you, and your student(s), to complete and access athletic forms via computer, tablet, or mobile phone. You will have to fill out all forms, upload your physical and pay your athletic fees online. Please see attached flier for info and setup. GO PIONEERS!
https://5il.co/1bhon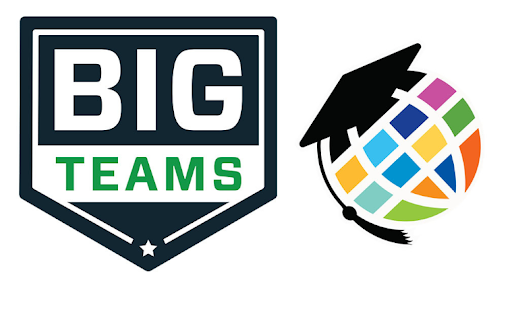 Thank you to our Dedicated Middle School students in rain, snow, or sun, everyday raising and lowering the American flag in front of our school. #Gopioneers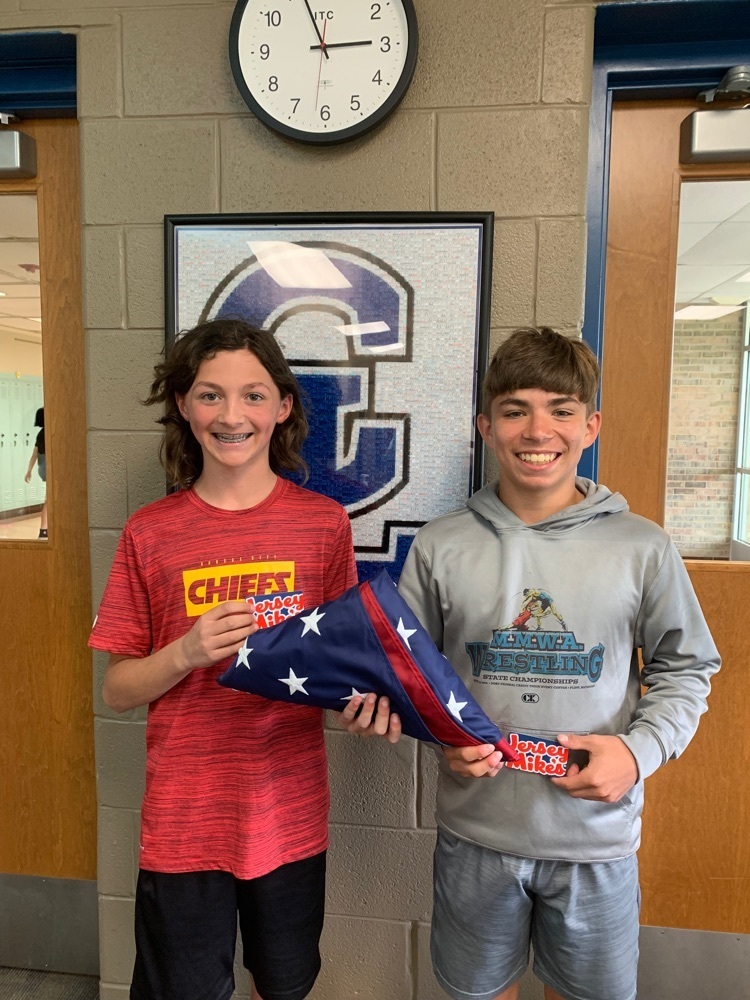 Just a reminder that tomorrow is our in school Participation/Sports Physical Day-June 2nd from 1-4:30 PM in the Middle School Media Center. You must have the Physical Form "Pre-Participation side" completely filled out and signed by your parent/guardian & $15 Cash or Checks made to McKenzie Health Systems in order to be dismissed. Flier posted here:
https://5il.co/1bflu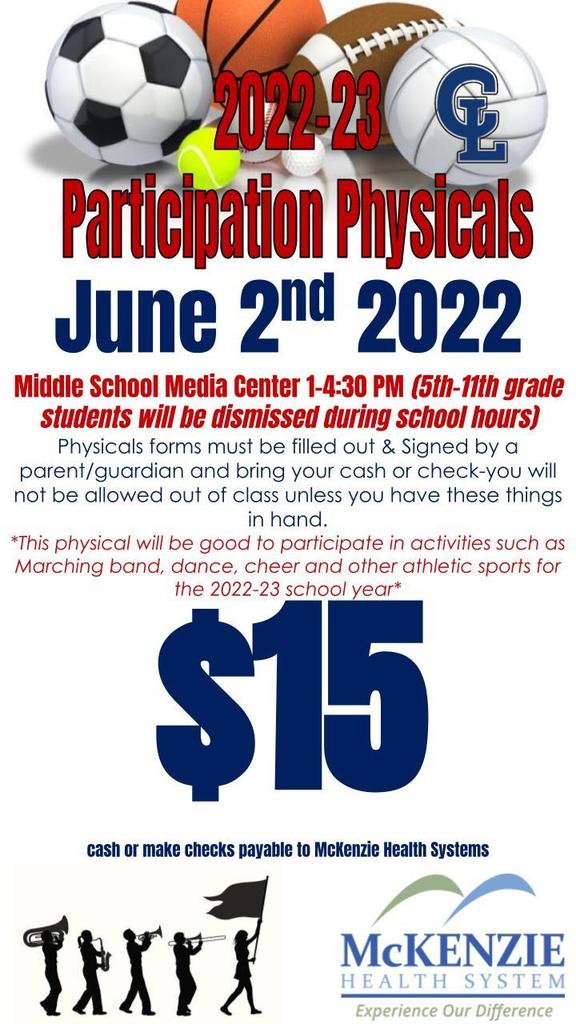 Today (5/26) we are hosting Girls Varsity Soccer Districts! Game time starts at 5:30 PM-come out and support your Pioneers while they take on the Armada Tigers! LETS GO BLUE!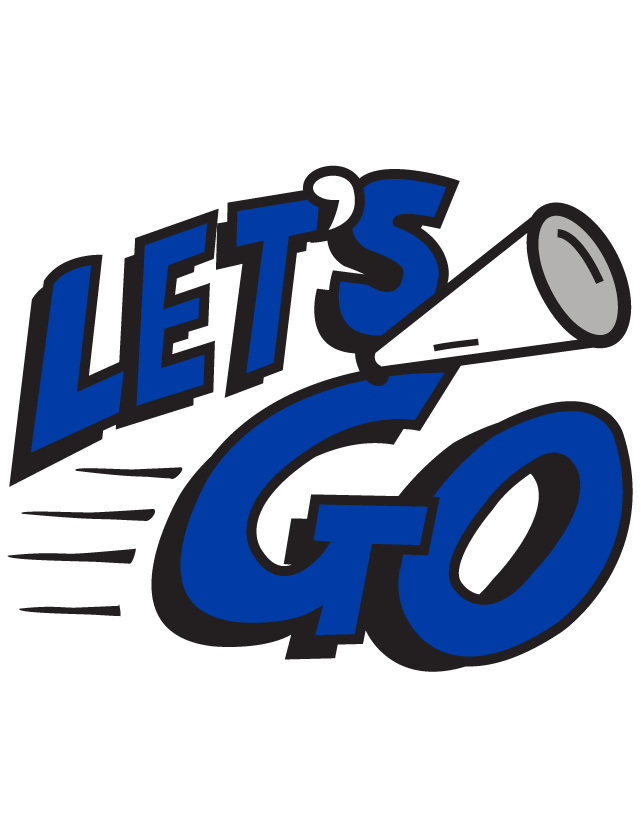 Cros-Lex Schools wishes all of our Mom's a Happy Mother's Day today! We also remember all Mom's who have passed before us. Our Mom's will always be remembered and honored! #Gopioneers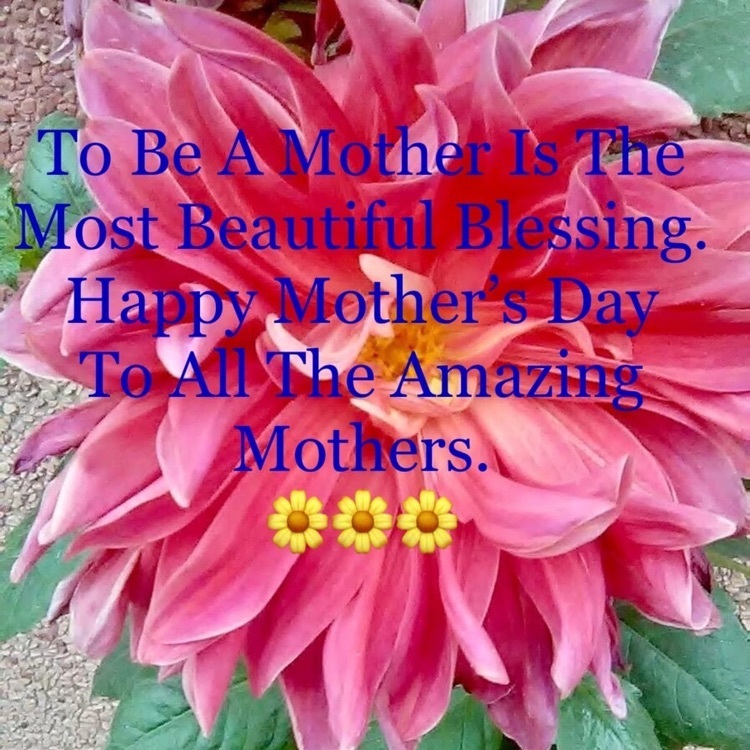 5/3/2022 Good Morning Cros-Lex Staff Members: As we begin the month of May, it is a true honor to acknowledge, and celebrate, all of our outstanding Croswell-Lexington Community Schools staff members, who work tirelessly, making every effort possible to keep our schools open for students to attend in person every day, as well as committing to keeping them healthy, and on track to grow academically and socially, as healthy young adults. You are worthy of our celebration today, and every day of the year. As a Cros-Lex staff member, you play a significant role in shaping all of our students here in our Schools, and it's an honor to be able to work alongside all staff who are "all in", working together for our students. Throughout the week there are many parents, and community members, who are taking the time to show their appreciation to all of our dedicated Cros-Lex Staff members, for the important work you are doing in support of our students. I hope today you will enjoy a healthy fruit bowl, along with fresh brownies, and on Thursday a lunch, both sponsored by the District, and catered by our dedicated Chartwell employees. Thank you, and Go Pioneers! Daniel Gilbertson Superintendent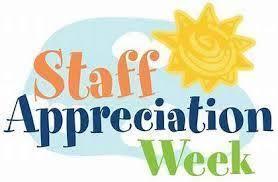 5/3/2022 As we begin the month of May with National Teacher Appreciation Week, it is a true honor to acknowledge, and celebrate, our outstanding Croswell-Lexington Community Schools Teachers. Long before, and throughout these last two and a half years of the pandemic, our Cros-Lex Teachers work tirelessly, making every effort possible to keep our schools open for students to attend in person every day, as well as committing to keeping them healthy, and on track to grow academically, socially, as healthy young adults. Our Teachers are worthy of our celebration today, and every day of the year. If you have not already, please consider thanking teachers this month, whether it's your child's teacher or your own favorite child's teacher. Make a card, send a small gift, write a letter, or tag them in a message on social media. Teachers play such a significant role in shaping the future generations of Americans, and here in Croswell-Lexington Community Schools, it's an honor to be able to work alongside an amazing professional staff who are "all in", working together for our students. Please join me in honoring our teachers by sharing your appreciation with them! Thank you, and Go Pioneers! Daniel Gilbertson Superintendent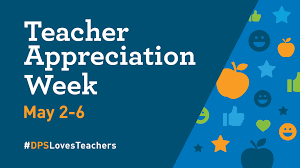 Cros-Lex performing arts students delivered an entertaining & high energy musical Broadway called Newsies on opening night. Next performance is Friday night 7 pm at CLHS. #Gopioneers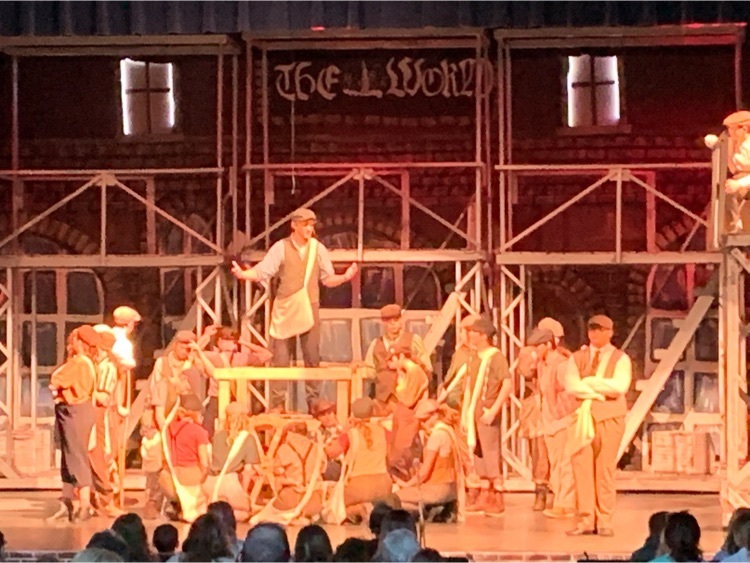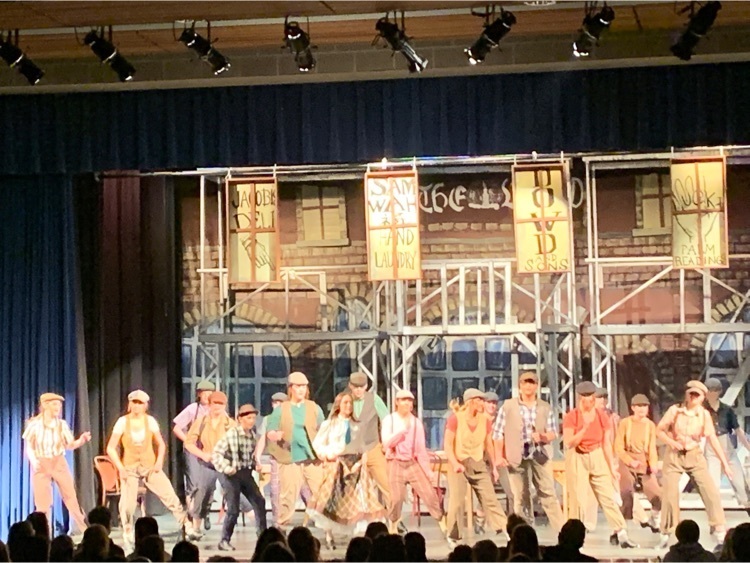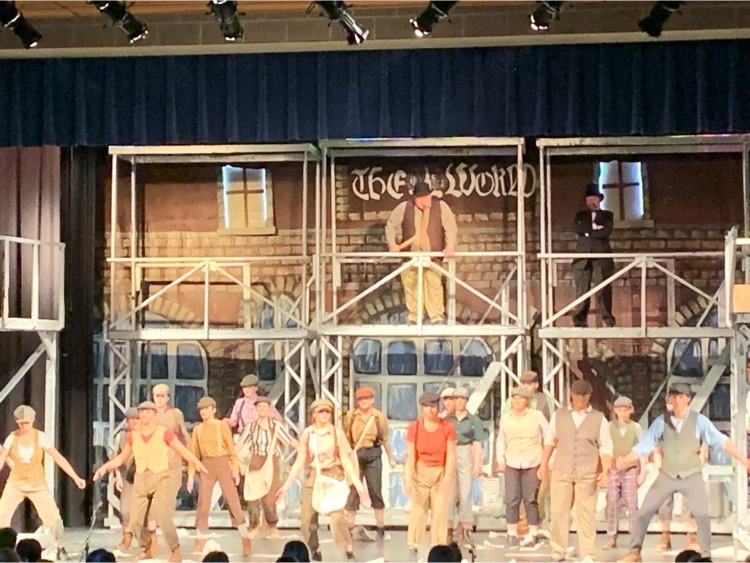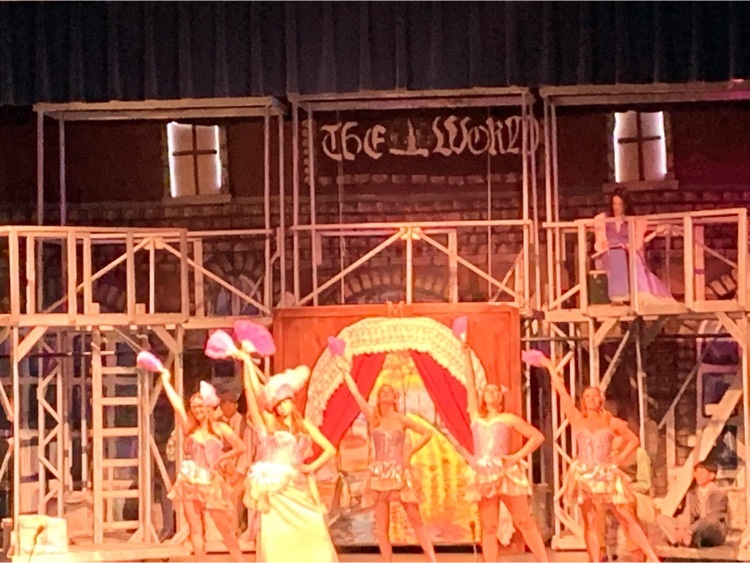 Superior Products MFG. INC. has Employment Opportunities We are a small job shop that machines all types and quantities of materials. Some have very tight tolerances but have been producing most of these parts for years. We will be working with and training and additional education required or desired pertaining to work performed will be reimbursed. This is an excellent opportunity for an apprenticeship-type job and excellent machining experience for the right candidate. More information at:
https://5il.co/19aip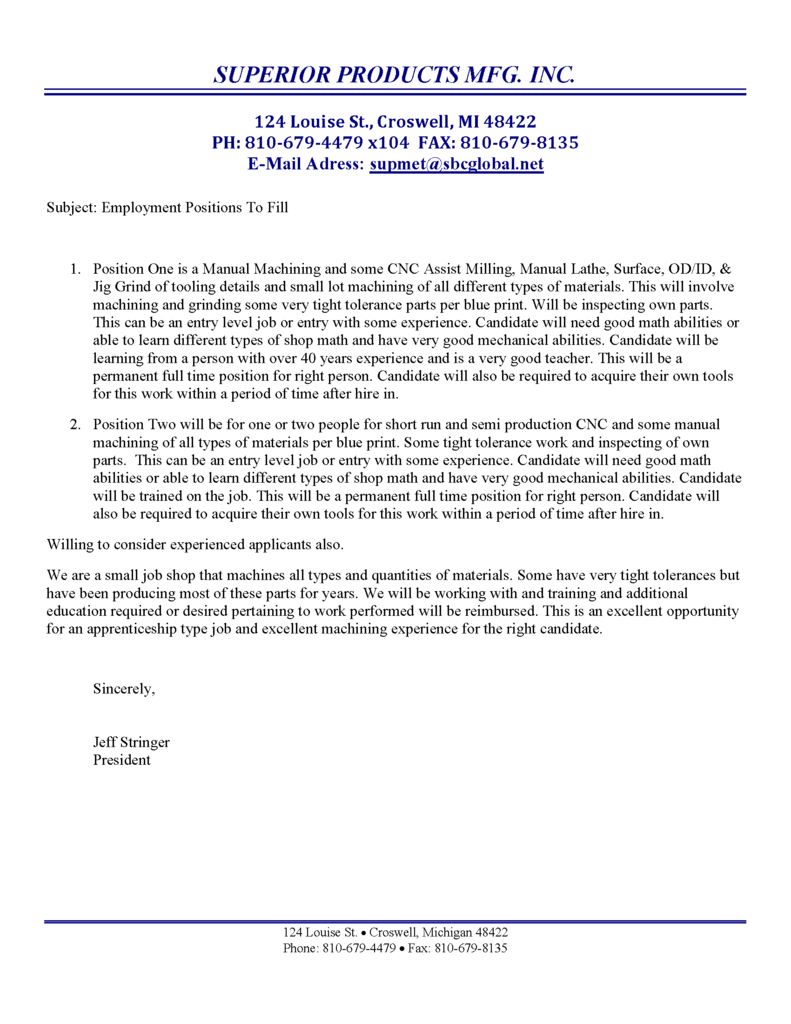 Congrats to the 2022 BWAC & Cros-Lex Academic Scholars! It's an honor to celebrate with these talented Students. #gopioneers

CLMS Students making a positive difference raising funds for a good cause in Uganda! #Gopioneers